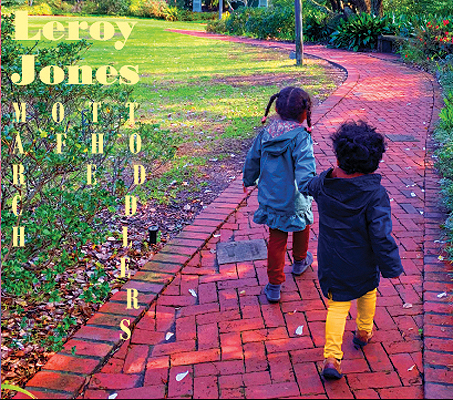 "What a feeling to continue being inspired, when supposedly past your prime. What a wonderful feeling to siphon that inspiration from fresh young minds. What a glorious feeling to achieve some productivity during perilous times. What a feeling of bliss to have the support of your spouse, two young toddlers and an adorable pet in the house. What a blessing indeed to have an opportunity to create music with flavor, that stimulates, delights and returns the favor. What an even greater feeling to know how much you enjoy this recording, March Of The Toddlers..." Leroy Jones

Song lyrics
02 FUN AND GAMES
When you feel the time
that summerís near
and all your friends will join you
soon theyíll all be here
Everyone will say
letís take a walk
a stroll down to the park
where all the children play
All the kids are jolly, dashing to the swing,
and there youíll find some folly as they do their thing
Then itís time to make our way back home
the day has been so long and time to take a break
from all the fun and games we share each day

03 PIPU
Tiny Tipitina
Sometimes we call her Wiener
Sheís also known as Tiina
Perhaps youíve even seen her
When she runs itís fun
brings joy to you and me too
now this is not a pun
her favorite tag is Pipu
Pipu, Pipu, best friend Iíve ever had
Pipu, Pipu, never ever makes me sad
Pipu, Pipu, nice to have her at my pad
Pipu, Pipu, always makes me feel so glad
Her coat is salt and pepper
youíll never see one better
sheís nifty as the letter
I know youíd love to pet her
Now and then she howls
thereís never one to follow
I wanna grab a towel
and throw her in the shower
Pipu, Pipu, best friend Iíve ever had
Pipu, Pipu, never ever makes me sad
Pipu, Pipu, nice to have her at my pad
Pipu, Pipu, always makes me feel so glad

04 I WISH I COULD FLY
Birds in the sky flying so high
gaze with my eyes Oh how I sigh
Wish I could try what blue jays do
Iíve wondered why since I turned two
All my friends see how happy
Iíd be roaming the clear blue skies
Just take a look itís not in a book
simple as apple pie
I wish I could fly oh how Iíve tried
wings in the wind journeys begin
I wish I could fly over the clouds
singing out loud happy and proud
Dreams were meant for children
far beyond the clouds
I wish I could fly, I wish I could fly away

05 STARLIGHT
Once there was a star
shining so bright
it appeared so far
in that summerís night
All the night was fair
joy was in the air
people everywhere
found the time to share
My heart was filled with peace
from above
it gave me the thrill that I love
Starlight, starlight, best seen at night
Starlight, starlight, shining so bright
All I could do
is stare with a prayer
that someday my light will shine too

06 TOYS
I canít find my ball, my sisterís found her doll
itís all in the call, for children after all
I know itís there, itís right behind the chair
hoping I wonít simply stare
I love all my toys, that ballís my favorite one
it brings me much joy and makes for so much fun
Everyone knows itís meant for girls and boys
sharing their joy and their woes
Toys, for boys and girls, hope theyíre never spoiled
when you hear the sounds of joy
itís all because of toys

07 TAKE TEN
1, 2, 3, 4, 5, 6, 7, 8, 9, 10
2, 2, 3, 4, 5, 6, 7, 8, 9, 10
3, 2, 3, 4, 5, 6, 7, 8, 9, 10
4, 2, 3, 4, 5, 6, 7, 8, 9, 10
5, 2, 3, 4, 5, 6, 7, 8, 9, 10
6, 2, 3, 4, 5, 6, 7, 8, 9, 10
7, 2, 3, 4, 5, 6, 7, 8, 9, 10
8, 2, 3, 4, 5, 6, 7, 8, 9, 10
9, 2, 3, 4, 5, 6, 7, 8, 9, 10
10, 2, 3, 4, 5, 6, 7, 8, 9, 10
Take ten, take ten, take ten, take 10

09 THE ALPHABET
A B C D E F G
H I J K L M N
O P Q R S T U
V W X and Y and Z
Now Iíve said my ABCs
Tell me what you think of me
La, la, la, la, la, la, la
la, la, la, la, la, la, la
Na, na, na, na, na, na, na
na, na, na, na, na, na, na


Leroy Jones Celebrates Joys of Childhood in Creative New Release "March of the Toddlers"

From swing sets to toys, pet dogs to math and the alphabet, Leroy Jones celebrates the joys of children and childhood ó and unlocks a new level of fun and creativity ó in "March of the Toddlers," his latest release.

Recorded during the pandemic lockdown by his versatile band, MOTT is a tour de force embracing the simplicity of life as a child, backed by the inventive playing of one of New Orleansí finest jazz ensembles.

Long known as a trumpeterís trumpet player, Jones' playing (and singing!) is always precise, melodic and swinging. His band, comprised of New Orleans favorite Paul Longstreth on piano, adds rich textures and color to all ten tracks, providing a sophistication ó and sense of joy ó that enhances his playful stories built around the wonders of childhood.

While Jones invites you in to reclaim the happiness of being a kid (or having them!) in Toys and I Wish I Could Fly, (or having manís best friend as a pet in Pipu), jazz lovers will keep coming back to inventive masterpieces like Take Ten (a nod to the Dave Brubeck classic "Take Five") and The Alphabet featuring Longstreth, bassist Nobu Ozaki and percussionist Barnaby Gold.

Frolic, one of the key songs on the new album captures Jones' spirit of joy and it is clear that memories of childhood ó and the experience of having children of his own at home during Covid lockdown ó have sparked new levels of creativity, fun and whimsy through all ten tracks.

"Lockdown was challenging for all of us, but having extra time to spend with my two toddlers, our beloved pet Tipitina and my supportive spouse unlocked feelings in me that I hadnít had since childhood," says Jones.

"Remembering the simple joys of going to the park, playing with my toys, wanting to fly, rekindled something not just for me, but for the entire band...a playfulness and creativity that really came out in the music. We lose that sense of wonder as we grow older and I wanted to recapture it and express it in words my kids could understand, appreciate and remember and in music our fans could receive some joy from. Especially today...isnít that what we all need?"

"March of the Toddlers" will get an official release in New Orleans at Satchmo Summer Fest on the weekend of August 6th and 7th. Leroy Jones & New Orleans' Finest perform Saturday, August 6th on the GE Stage from 4:40 to 5:50 pm and CDs will be available for purchase.

Compact discs can also be purchased at the Louisiana Music Factory or ordered online via www.louisianamusicfactory.com. Digital downloads are available via the iTunes Music Store and other platforms.

Leroy Jones: March Of The Toddlers (LJCD 0822)
01 March Of The Toddlers 1:39
02 Fun And Games 5:21
03 Pipu 4:13
04 I wish I Could Fly 5:27
05 Starlight 4:01
06 Toys 04:04
07 Take Ten 5:36
08 Frolic 4:47
09 The Alphabet 3:40
10 Nighty Night 1:39
Total playing time: 40:31

Personnel:
Leroy Jones - trumpets/flugelhorns/vocals
Paul Longstreth - piano
Nobu Ozaki - bass
Barnaby Gold - drums/percussions
Special guest:
Rob Espino - sousaphone on track 1

All songs composed and arranged by Leroy Jones - Photography and graphic design by Katja Toivola - Produced by LJ Jazzy 58 -

Leroy plays a Harrelson Custom VPS Summit Bb Trumpet - www.harrelsontrumpets.com - Flugelhorn by Antoine Courtois -
Recorded at Rabadash Recording Studio 130 N. Columbia St., Covington LA 70433, USA -
Recorded and mixed by Tim Stambaugh on August 7th, 8th, 9th and 10th, 2020 -
Mastered by David Farrell on August 13th 2020 -

A note of gratitude to my Heavenly Father, for blessing me with my musical gifts and Katja, Aada, Luca, Pipu, Mom, Dad, Nobu, Rob, Paul, Barnaby, Tim, David and all my devoted fans and music lovers for their continued appreciation and support.

More information on Leroy Jones
http://spiritofneworleans.com/leroy.htm