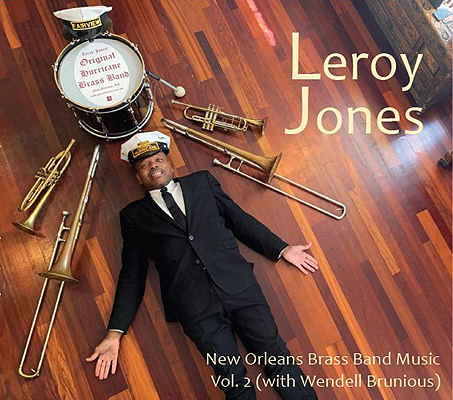 Leroy Jones: New Orleans Brass Band Music Vol. 2 (with Wendell Brunious) - LJCD 0623
1. Give Me That Old Time Religion - 2:20
2. Nearer My God To Thee - 3:23
3. Algiers Strut - 3:15
4. In The Sweet Bye And Bye - 3:12
5. Yes Sir, That's My Baby - 3:51
6. Mobile Stomp - 3:44
7. Bugle Boy March - 3:55
8. Panama - 4:09
9. The Old Rugged Cross - 4:06
10. I'll Fly Away - 4:49
11. One For The Young Bloods - 3:55
Total time 40:43
"A note of gratitude, as always to my Heavenly Father, Katja, Rob, Brian, Ethan, Dani, Craig, Freddie, Wendell, Kevin, Raymond, Alonzo, Bruce, Tim, David and my parents, who've always encouraged me to pursue my dreams, and to all my devoted fans and music lovers for their constant appreciation and support." Leroy Jones
facebook.com/LeroyJonesTrumpet
Buy "New Orleans Brass Band Music Vol. 2" on Bandcamp:

Leroy Jones releases new brass band album: New Orleans Brass Band Music Vol. 2 (with Wendell Brunious)

"Wendell Brunious and I have been acquainted with each other since the 1970s, during the time when the New Orleans brass band renaissance surged through the efforts of jazzman Danny Barker and pastor Andrew Darby Jr. of the Fairview Baptist Church. Wendell is a few years my senior. So it would suffice to say his trumpet playing, particularly within the context of this music, has influenced mine. Needless to say, our admiration for one another has always been mutual. Seemingly we have become sources of inspiration to a new generation of brass players.

Some of our followers, via social media, have asked me when will Wendell and I do a recording together. I thought, what a more perfect way to indulge the request, as well as fulfill a dream, than bringing it to fruition through a genre of music we've been familiar with since our youth.

We are joined by a very talented array of musicians who indubitably compliment the lead, with finesse, soul and swing. Here are fresh arrangements to some old classics, interspersed by an original piece dedicated to the emerging cohort and lovers of New Orleans brass band music." Leroy Jones
"New Orleans Brass Band Music Vol. 2 (with Wendell Brunious)" will get an official release in the fall of 2023 but it is already available for purchase. 

Compact discs can also be found at the Louisiana Music Factory or ordered online via www.louisianamusicfactory.com. Digital downloads are available via the Bandcamp website (https://leroyjonesjazz.bandcamp.com/), iTunes Music Store and other platforms.
Personnel:
Leroy Jones - trumpet, tambourine on track 10
Wendell Brunious - trumpet
Alonzo Bowens - tenor saxophone
Ethan Santos - trombone (on tracks 3, 4, 5, 6, 7, 8, 9, 10 and 11)
Craig Klein - trombone (on tracks 1, 2, 5, 6, 7, 9, 10 and 11)
Dani Alonso - trombone (on tracks 1, 2, 3, 4, 8 and 10)
Rob Espino - sousaphone
Brian Lewis - snare drum
Katja Toivola - bass drum

Special guest appearances:
Freddie Lonzo - trombone soloist on track 5
Bruce Brackman - clarinet soloist on track 9
Kevin Louis - trumpet on track 10
Raymond Williams - trumpet on track 10
All songs arranged by Leroy Jones -
Photography and graphic design by Katja Toivola -
Leroy plays a Harrelson Custom VGR System Summit Bb Trumpet - www.harrelsontrumpets.com
Recorded at Artisound Recording Studio, 3116 St. Claude Avenue, NOLA 70116
Recorded and mixed by Tim Stambaugh on November 12-16th, 2022
Mastered by David Farrell on November 29th, 2022
More information on Leroy Jones
http://spiritofneworleans.com/leroy.htm